One size fits most! Stretch Blouses from Triyah that are Perfect for every Woman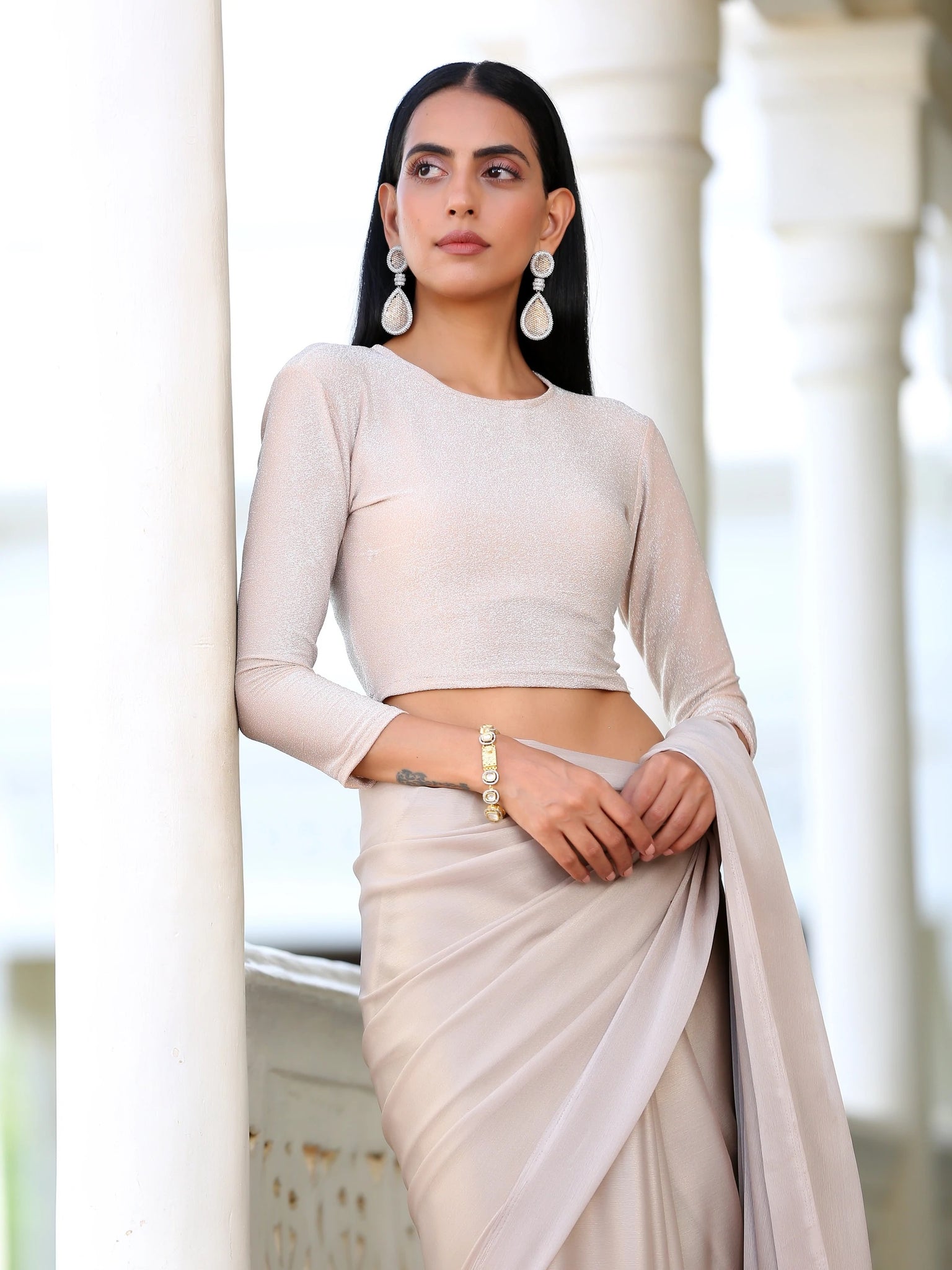 Everyone is being more conscious about their fashion choices of late and looking for sustainable clothes that can be repurposed and worn differently over a long period of time. This requires clothes to be fashionable and also high in quality and design.
Keeping in line with the Slow Fashion Movement, Triyah has created a line of multipurpose stretch blouses - that are so unique and comfortable! Wear them without having to worry about changes in your sizing. Style them with sarees, lehengas, pants, dresses or skirts. These can also be shared among family and friends, owing to their stretchy nature that fits more than one size. Let us take a look at some of our popular designs. 
Our Best-selling High Stretch Nude Shine Comfort Blouse with long sleeves and round neck fits just like a t-shirt and is so comfortable to wear. Its made from high stretch Hosiery fabric that gives it that one-size-fits-most-sizes quality.
Style this beautiful and shiny, pinkish nude blouse with sarees or lehengas, or wear it as a shirt with denim, skirts and more. A piece so unique and versatile definitely belongs in your closet! Also available in other colors like Emerald, Night sky, Silver, Black and Espresso. 
A Must-Have classic white shirt with stretch fabric that can be coordinated with everything. The stretchy Poplin material fits on your body like a dream and lets your skin breathe. It has that stretchy nature that lets you share this piece with your siblings or friends close to your size.
With a puffed sleeve design and collar, wear this blouse as a shirt with denim or skirts - Or style it with sarees for that modern touch! 
 
 
Our soft Ruby Red Stretchy Blouse in stretchy Rayon Hosiery fabric takes the shape of your body like magic. This blouse features a scoop neck design and gathered details on the neck and sleeves for an added flair. It functions just like a shirt and is easy to wear.
The ruby red color is very trendy and the stretch fabric makes this blouse a one-size-fits-most-sizes. This blouse is also available in Berry beauty and Turquoise Blue. 
The Glazed Apple Stretchy Blouse is the perfect must-have blouse for everyone! In an understated dull gold hue with prominent shine, this fancy blouse in stretchy Hosiery fabric fits like a glove.
Comfortable to wear and stretchy enough to be shared with family or friends of different sizes, this blouse goes with so many outfits, styles and colors. A versatile statement piece in every right!
 
Our High Stretch Red Glam Blouse in a festive shade of red with shimmer is very versatile. With a round neck and sleeveless design, this blouse fits like a comfy t-shirt and is so easy to wear.
Its stretchy Hosiery fabric fits so many sizes and can be paired with anything ranging from sarees, and lehengas to jeans, trousers, and skirts. It is pretty enough to make any outfit pop! 
 
The Elegant Comfort Black Knit Blouse in high stretch Viscose Hosiery is a wardrobe essential. The soft black blouse with a V neck features short sleeves and a stylized center panel with grey buttons for added glitz.
The black coordinates very well with most colors and styles. This figure hugging blouse is stretchy and can be shared with others. 
Be party-ready by pairing this black beauty with any outfit. Our Black Knit Peep Blouse in high stretch Viscose Hosiery fabric is soft, comfortable and so modern. With peep detail in the front and Bell sleeves made from Black chiffon with gold shimmer. Just slip this blouse on like a shirt and you're ready to go.
The Black and gold hues style very well with so many colors, and the stretchy fabric makes it perfect for sharing this piece with others. 
 
A true fashionista knows that having statement pieces that can be styled in multiple ways is so important. With our creative 
collection of stretchy blouses
, you will never fall short of mixing and matching pieces together to maintain versatility in your wardrobe. Check out
Triyah's fabulous collection of multipurpose blouses
and
more
! Collection 2019 Sale 70% Off Title for image