Trend Alert! Latest Blouse Trends of 2022 That You Should Know About!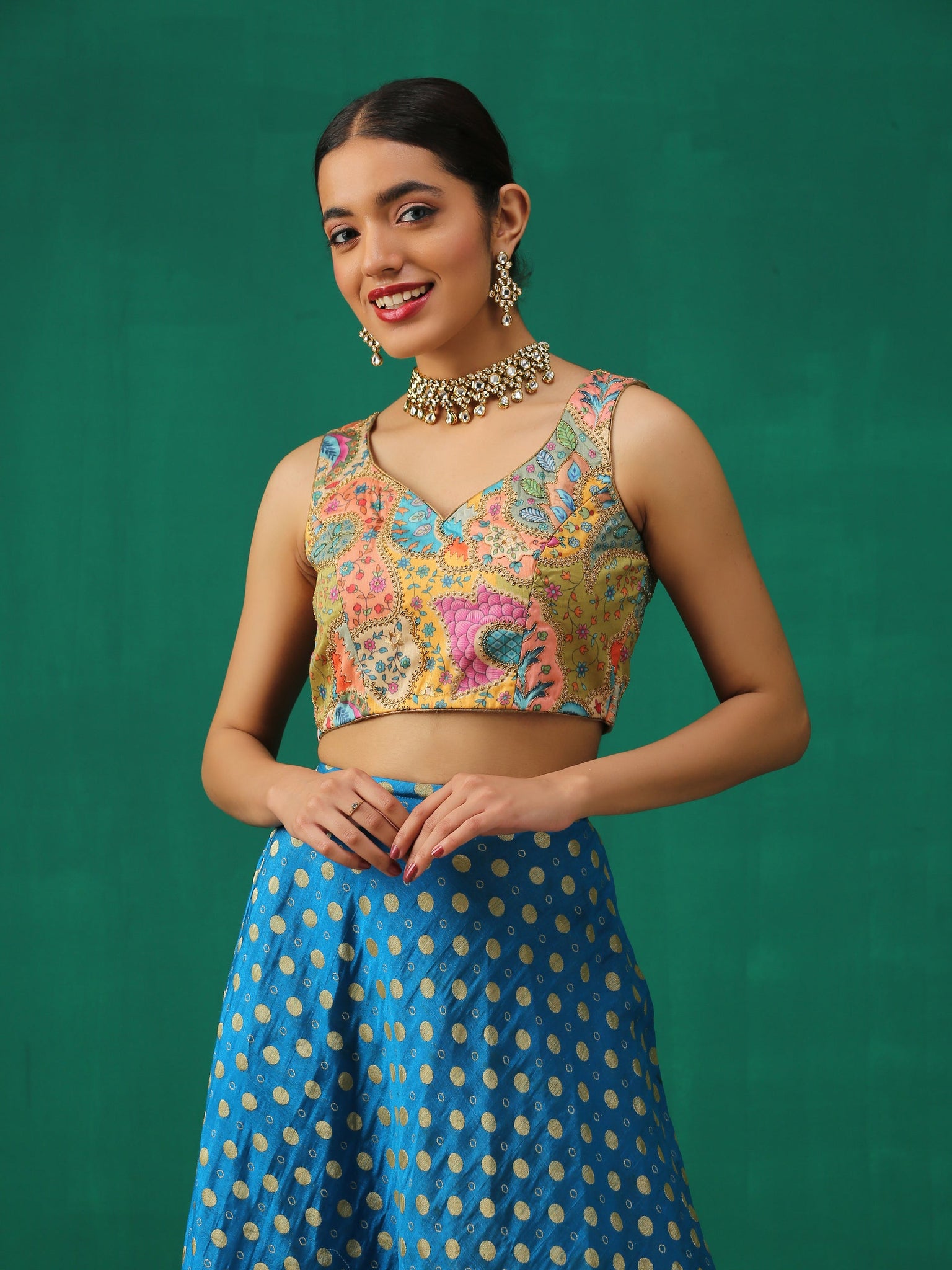 As far as Indian wear is concerned, our choices are always evolving and each new year brings with it a variety of new styles and trends. Whether it's being flaunted by our beloved B-town ladies on the big screen or by fashion influencers on social media, we are constantly being influenced into trying out something newer. 
When it comes to the quintessential Saree and Blouse - in 2022 we have noticed a shift toward bolder and refreshing blouse designs. Let's take a look at some Blouse styles that are totally setting the tone for this season. 
1. Attractive Metallic stripes 
Our favorite trend this Summer in blouses is definitely Golden stripes over everything. The color Gold has the power to bring an Indian look together - so Why not give your traditional-looking blouses a touch of modernity with our gold striped blouses? These add that extra glam to your look without the heaviness of fancy borders or embellishments. The gold stripes are arranged in a way that perfectly accentuates your figure. Check out our favorites like the Mustard Kundan appliques Short Sleeve Blouse, Royalty White & Gold Striped Blouse and Royal Red Banarasi Diagonal Stripes Blouse.
2. Contemporary Open Back styles
A trend that can never be out of style but always keeps evolving in fascinating new ways - Open Back blouses have the power to make any mediocre saree look upgraded instantly. In 2022 we have discovered innovative ways to flaunt the backless blouse, and the Inverted V-back and Open Keyhole back are some of our new favorites. Check out Our fresh designs like the Prussian Inverted V Satin Blouse, Ikat Printed Back Eye Blouse, Regal Cream & Gold Blouse with Inverted V Back. 
3. Charming Wrap style blouses
It's time to experiment with different types of blouse fits and Wrap blouses have the charming allure to instantly glamorize your saree or lehenga looks. These add that exceptional detailing with their front or back ties, knots or bows. It gives your whole saree look that fresh layer of interest and makes you stand out from the crowd. You will love our mesmerizing new wrap blouses - Pink Mousse Wrap Blouse and Elegance Wrapped in Kundan Buttons Blouse. 
4. Trendy lantern sleeves with cuffs
Stylized sleeves are back in trend and we are loving the new Lantern sleeves look in blouses. Combine lantern sleeves with cuff detailing and it's a match made in fashion heaven. These blouses draw attention to the sleeves instead of the actual blouse and make the whole look very elegant and chic! Our new Triyah favorites are the Marigold Blouse with Kundan Buttons on Sleeves, Maroon Flower Button Blouse and Smocked Henna Lantern Sleeve Blouse. 
5. Modern stylized bottom designs
Innovation in fashion means finding ways to showcase designs in bold new styles. In 2022 we have seen the fresh trend of focusing embellishments on the bottom of blouses instead of the usual neckline and sleeves. Stylized bottom blouses have an innate way to focus the style quotient of the blouse towards the waistline. Dare to experiment with our fashion-forward designs like the Starry Grey Textured Blouse and Ruby Metro Full Sleeve Blouse. 
6. Classic brocade blouses 
A timeless staple design that never fails to amaze. The Classic Brocade blouse has the defining beauty to Match any Indian outfit and bring out the best of any look. These are so versatile and can be paired with just about any style. We love showcasing the brocade blouse in fresher designs and colors to bring out the traditional elegance in your sarees and lehengas. Our top picks of this year are Red & Gold Brocade Blouse with Cap Sleeves, Regal Cream & Gold Blouse with Inverted V Back and Pink Elegance Brocade Blouse with elastic loops.
7. Pretty Kundan appliques 
In true Triyah style, we are loving combining traditional elements into our modern blouses. Minimal adornments such as floral Kundan appliques and pretty buttons add a royal touch to your Blouse. In our Less-is-More fashion, we have created some subtle and beautiful blouse designs for you like the Classic Ecru Kundan appliques Short Sleeve Blouse, Blue Marble Print Cap Sleeve Blouse and Mustard Kundan appliques Short Sleeve Blouse. 
Whether you like bolder Blouse styles or effortless glam - we have something for every woman at Triyah. Step up your style game with these fun designs to try out in this new season. Find the right match for your saree with our brand-new collection of fabulous blouses only at Triyah! Collection 2019 Sale 70% Off Title for image